Today I went to help mum on a stall at a dog show. We were there to tell people about
Oldies Club
, a UK registered charity which rescues and rehomes older dogs and try to raise some funds. We did raise some money but mum looked sad and said it was a lot less than last year. Still, she said Oldies Club is really grateful for every penny, especially as it is facing high vet bills, and we met some really nice people.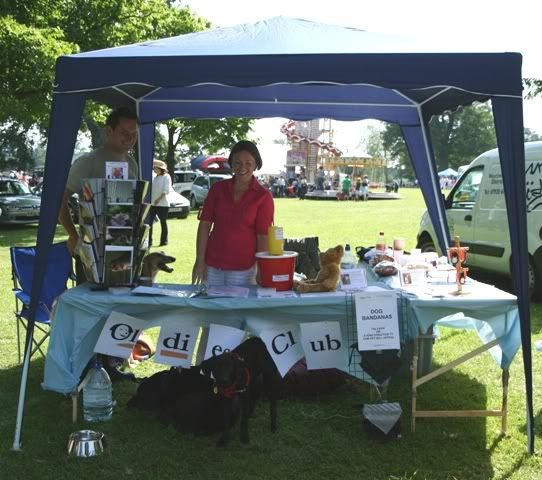 Here's a photo of the stall being manned by Kelly from Oldies Club and her partner. If you look carefully under the table you can make out two black labs, that's me and Sir Henry!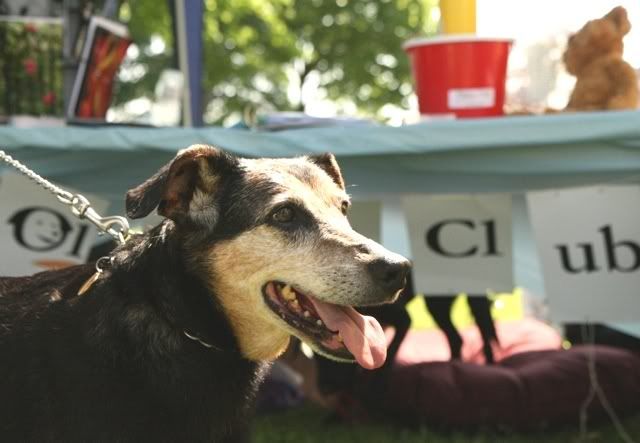 Mum also took some photos of an oldie girl - a Heinz 57 sort apparently?! - who mum said reminded her a lot of Sweetie, an older girl that my family adopted a few years ago. Sadly Sweetie passed away last year, about a year before I was born, so I didn't ever get to meet her, but I know she meant a great deal to my mum and dad and had a happy few years here. Sweetie was the reason my mum got involved in Oldies Club, she wanted to help other oldies find their new forever homes.